Jackie Berkery
Published: Jan. 22, 2020
Your Complete Guide to March Madness Tickets
---
Start planning your bracket...
The Big Dance is almost upon us! The NCAA Division I Men's Basketball Tournament kicks off on March 15th with Selection Sunday, and fans across the country are already scooping up tickets in hopes that their team will prevail on The Road to the Final Four. Whether you majored in bracketology or make your picks based on whose mascot would win in a fist fight, it's a month of crazy fun competition that even the most casual basketball fan can get behind.
But while you're intricately researching and planning ahead for your best bracket ever, you might want to hold off on grabbing tickets and save yourself some cash. After all, it's called madness for a reason — and there are bound to be upsets and underdogs that not only surprise us all, but also impact ticket prices from coast to coast. When a favorite gets suddenly knocked out, your wallet will be glad you waited.
Hoping to live out your college hoop dreams? In this guide, we're breaking down everything you need to know about March Madness tickets:
March Madness Ticket Types

Full March Madness Schedule

When to Buy March Madness Tickets

Why Buy from Gametime

The Final Four Schedule of Events

The Final Four Experience (accommodations, food + drink, transportation)
TL;DR: We've got your back when it comes to March Madness tickets.
March Madness Ticket Types
March Madness tickets are as unique as the tournament itself, with a handful of options to get into the game. While you can purchase directly from the NCAA, all tickets sold through their website include the "Official NCAA Experience," a hospitality upgrade that includes private lounge access, food, and drink. If you don't want to fork over the extra cash for VIP add-ons, you can still purchase tickets to any round of the tournament from a trusted reseller like Gametime. Just don't jump the gun too early — ticket prices are likely to fluctuate based on which teams progress through the tournament, so we recommend waiting until the last-minute to grab your tickets.
Session Tickets
For most of the tournament, you won't have the ability to purchase individual game tickets, so you'll likely want to grab a session ticket. Each session consists of two games, and each venue hosts three sessions. If you buy a session ticket, you'll have access to two games at a given venue.


All-Session Tickets
Also called full strip tickets, all-session tickets include three separate sessions — six games in total — at one tournament location. Though they're more expensive, all-session tickets are generally the most cost-effective option if you plan to attend every game at a certain venue.


Final Four Tickets
The Final Four tickets consist of the last two rounds of the tournament, including two semifinal games and the National Championship. For these rounds, fans can pick up either individual game tickets or an all-session package to see both semifinal games and the championship game.

March Madness Schedule
The competition kicks off with Selection Sunday on March 15th, when a special committee announces the 68 teams that will play in the tournament. With 67 games happening over the following three weeks, the schedule is tight and the madness is real. Want to get in on the action? Check out the full March Madness schedule and locations below.
| ROUND | LOCATION | 2020 DATES |
| --- | --- | --- |
| Selection Sunday | N/A | March 15 |
| First Four | Dayton, OH | March 17-18 |
| 1st/2nd Rounds | Albany, NY | March 19/21 |
| 1st/2nd Rounds | Spokane, WA | March 19/21 |
| 1st/2nd Rounds | St. Louis, MO | March 19/21 |
| 1st/2nd Rounds | Tampa, FL | March 19/21 |
| 1st/2nd Rounds | Greensboro, NC | March 20/22 |
| 1st/2nd Rounds | Omaha, NE | March 20/22 |
| 1st/2nd Rounds | Sacramento, CA | March 20/22 |
| 1st/2nd Rounds | Cleveland, OH | March 20/22 |
| Midwest Regional | Indianapolis, IN | March 26/28 |
| West Regional | Los Angeles, CA | March 26/28 |
| East Regional | New York, NY | March 27/29 |
| South Regional | Houston, TX | March 27/29 |
| Final Four, National Championship | Atlanta, GA | April 4/6 |
When to Buy March Madness Tickets
If you're a college basketball fan, you're probably wondering how to get cheap March Madness tickets. But it's not just about where you buy tickets — your timing is important, too. As with any other big game, NCAA ticket prices tend to drop as each match-up approaches. Keep in mind that the Big Dance is a single-elimination, one-and-done tournament, and you'll still be on the hook for your tickets even if your team is knocked out in the first round. We recommend that you wait until later in the tournament to get your March Madness or Final Four tickets, so you can be sure you're pumped about the match-up.
With that said, in the case of tournaments like March Madness, ticket prices fluctuate significantly as teams are eliminated and unexpected upsets happen. If you see a price you're comfortable paying (no matter which teams are playing), grab tickets now to avoid surprises.
Tracking prices in the Gametime app? We recommend enabling All-In Pricing to view total costs including taxes and fees. Simply tap "My Tickets" in the app, click on your profile info at the top, and toggle All-In Pricing under Settings. By turning on this feature, you'll see the full cost of tickets as you scroll through the app. (Note: you'll need to create a Gametime account in order to adjust these settings.)

Why Buy from Gametime?
Guaranteed Authentic March Madness Tickets
Skip the agonizing parking lot hustle. Our Gametime Guarantee means you can rest assured that your tickets are 100% authentic and we'll get them to you on time for the game.

Lower Fees → Better Prices
Gametime has some of the lowest ticketing fees in the business, meaning we offer more competitive pricing for March Madness and Final Four tickets, and you don't have to worry about paying exorbitant service fees.

Curated Listings
We do the hard work for you. Our intuitive platform surfaces the best ticket options available at any given time based on price, location, and other factors — so you don't have to waste your time scrolling through less-than-stellar deals.

Dedicated Customer Support
Our Fan Happiness team is here to make sure everything goes right. If you have any questions, send us an email at feedback@gametime.co and we'll get back to you right away.
---
Final Four Schedule of Events
If you're heading south for the Final Four, be prepared for a full weekend of festivities. The semifinals are scheduled to go down on Saturday, April 4th, while the grand finale takes place on Monday, April 6th. There will be plenty of action happening between games, though, so plan accordingly and take advantage of all that's going on. From live music to rowdy tailgates, the city will be abuzz with basketball fans, families, and yes – an abundance of college students embracing the "madness."
Check out the full schedule of events below, including the official Fan Fest:
| FRIDAY, APRIL 3 | | |
| --- | --- | --- |
| TIME | EVENT | LOCATION |
| 10am–5:30pm | Reese's Final Four Friday | Mercedes-Benz Stadium |
| 12pm–8pm | Final Four Fan Fest presented by Capital One | Georgia World Congress Center |
| 3:35pm–5:30pm | Reese's College All-Star Game | Mercedes-Benz Stadium |
| 2pm–10pm | March Madness Music Festival | Centennial Olympic Park |
| SATURDAY, APRIL 4 | | |
| --- | --- | --- |
| TIME | EVENT | LOCATION |
| 10am–8pm | Final Four Fan Fest presented by Capital One | Georgia World Congress Center |
| TBA | National Semifinal Game 1 | Mercedes-Benz Stadium |
| TBA | National Semifinal Game 2 | Mercedes-Benz Stadium |
| 12pm–9:30pm | March Madness Music Festival | Centennial Olympic Park |
| SUNDAY, APRIL 5 | | |
| --- | --- | --- |
| TIME | EVENT | LOCATION |
| 12pm–8pm | Final Four Fan Fest presented by Capital One | Georgia World Congress Center |
| 3pm | NCAA Final Four Dribble presented by Buick | Georgia World Congress Center |
| 4pm–10pm | March Madness Music Festival | Centennial Olympic Park |
| MONDAY, APRIL 6 | | |
| --- | --- | --- |
| TIME | EVENT | LOCATION |
| 12pm–8pm | Final Four Fan Fest presented by Capital One | Georgia World Congress Center |
| TBA | National Championship Game | Mercedes-Benz Stadium |
* All times are local (EST). All events, time and locations are subject to change.
---
Final Four Location
The City: Atlanta, GA

The 2020 March Madness Final Four and Championship will take place in Atlanta, Georgia – home of the Falcons, Childish Gambino, and Coca-Cola. This sprawling metropolitan city boasts mild winters, an easy-to-navigate public transit system, and countless greasy spoons. The makings for a perfect NCAA Tournament host city. Fortunately, the city is no stranger to marquee sporting events. Atlanta has hosted the Super Bowl three times, as well as the 1996 Summer Olympics and the College Football Playoff National Championship in 2018.
The Venue: Mercedes-Benz Stadium
The Final Four and National Championship games will be held at Mercedes-Benz stadium in downtown Atlanta. This brand new stadium opened in 2017, replacing the Georgia Dome. It's the first professional sports stadium in the country to achieve platinum LEED status and the most sustainable sports venue in the world. Seating up to 83,000 people, the stadium acts as home turf for the Atlanta Falcons and Atlanta United FC.
The state-of-the-art facility features a Transformer-like retractable roof and innovative technology throughout. But what fans really come for is the food. (Well, the game, too. But mostly the food.) The venue's dining and beverage options are ranked #1 in the NFL by fans, going far beyond your standard stadium fare. Gone are the days when you had to choose between a naked hot dog and a rock-hard giant pretzel. Fans at Mercedes-Benz stadium can gorge on gourmet short rib burgers, smoked pulled pork tacos, and even vegan tapas, if that's your thing.
Among the hearty Midwest dining options available, fan favorites include:
Delia's Chicken Sausage Stand

Fox Bros. Bar-B-Q

Molly B's Kitchen

Snackology 101 Market

Golden Brown & Delicious
Final Four Accommodations
Take our advice and book your hotel ASAP – if they haven't already, hotels near the stadium will most certainly sell out. Heads up that most hotels are requiring a 4-night minimum during Final Four weekend, from Friday, April 3 - Monday, April 6. So, make the most of the weekend and stay the whole time. (You might not have a choice!)
Impromptu trip? Nice moves. Check out the HotelTonight app for the best chance at snagging a last-minute hotel deal in the Atlanta area. Visitors can also rent an apartment or home on websites like Airbnb and HomeAway.
Hotels Near Mercedes-Benz Stadium:
Omni Atlanta Hote
Located at the CNN Center downtown, the Omni Atlanta Hotel is the closest hotel to Mercedes-Benz Stadium. As a luxury Four Diamond property, the Omni offers a high-end spa experience, several on-site restaurants, and an outdoor heated pool. You're going to March Madness in person—why not do it right?!


Embassy Suites by Hilton Atlanta Centennial Olympic Park


Just a short walk from the NCAA Tournament grounds, the Embassy Suites sits right on the beautiful Centennial Olympic Park and adjacent to the Georgia Aquarium. With free made-to-order breakfast and a complimentary evening reception for all guests, Embassy Suites Atlanta offers great value for families and those needing a little more space.




Glenn Hotel, Autograph Collection


Just a stone's throw from the action, the Glenn is a charming boutique hotel offering unique dining options, cozy gathering places, and panoramic city views from its SkyLounge cocktail bar. For those with discerning taste and a penchant for character, it'll be a nice departure from Atlanta's big box hotel options.




Hilton Garden Inn Atlanta Downtown


Featuring two swimming pools and a fully-equipped fitness center, this hotel has a little something for everyone. The Hilton Garden Inn Atlanta Downtown is located within walking distance of some of Atlanta's top destinations—including the World of Coca Cola, the Georgia World Congress Center, and yes, Mercedes-Benz Stadium.




Hotel Clermont


Located on historic Ponce de Leon Avenue, Hotel Clermont is an Instagrammer's dream. With kitschy wallpaper, mid-century modern upscale bunk rooms, and a trendy picture-perfect cocktail lounge, any millennial will feel right at home here. Looking for a unique ATL hotel stay? Do it for the 'gram.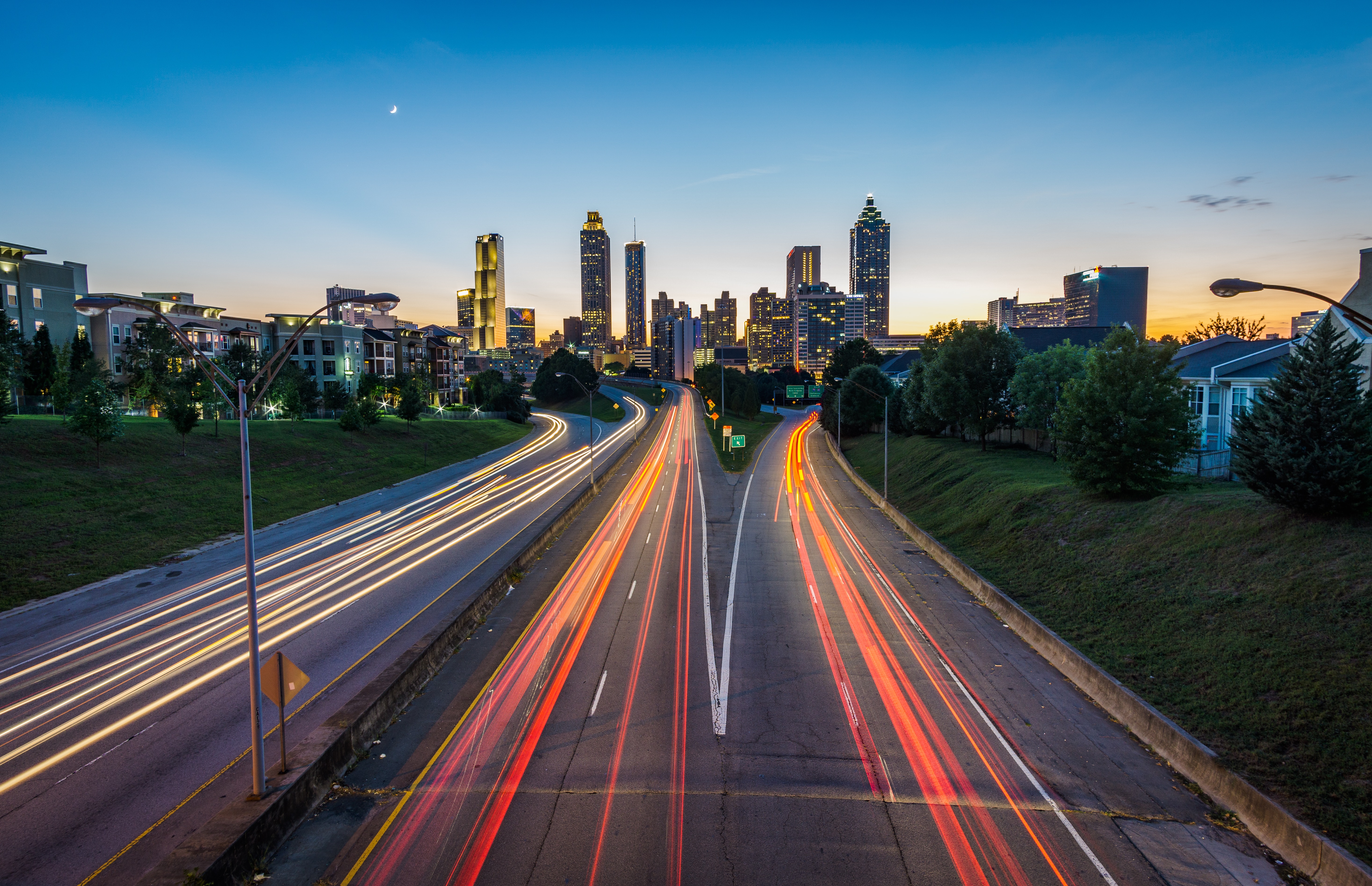 Getting Around Atlanta
Located in the heart of downtown Atlanta, Mercedes-Benz Stadium is easily accessible whether you plan to walk, drive, or ride. For directions, parking passes, and public transit routes, visit the stadium website. Here are the easiest ways to get to the games:
Public Transportation


Atlanta's citywide bus and rail system, known as MARTA, is the easiest way to get to the game if you're coming from within the metro area. With several stops at the doorstep of the stadium, you'll be delivered right to center of the action.




Ride Sharing


Attendees can also catch a ride with Uber or Lyft, both of which are widely available in Atlanta. Mercedes-Benz Stadium provides two designated Lyft dropoff and pickup locations to make it a smooth ride. The primary (recommended) Lyft zone is near Gate 1, while a smaller secondary zone services Gates 2, 3, and 4 on Centennial Olympic Park Drive.




Driving


Parking will undoubtedly be tricky, despite the fact that there are more than 20,000 parking spots within walking distance of the stadium. We recommend purchasing a parking pass in advance to save yourself from a pregame headache.
Eating & Drinking in Atlanta
While you're in town for some basketball, you might as well check out the city's incredible restaurant scene. Below are a couple of our top recs. Let's be clear that this list is not at all comprehensive, and there are so 👏 many 👏 spots 👏 in Atlanta to indulge your food and drink snobbery. These are a good place to start.
The Varsity


"What'll ya have, what'll ya have?" Expect this friendly greeting as you step up to the counter at The Varsity. An Atlanta landmark for 90 years, this fast food mecca is home to some of the best chili dogs, onion rings, and fried peach pies in the south. With six locations throughout Atlanta, there's no excuse not to experience this local institution.




Mary Mac's Tea Room


This Midtown staple has been a favorite among visitors and locals alike for more than 70 years. The ambiance isn't anything to write home about, but that's not what you came for. If you haven't had your fill of fried chicken and peach cobbler yet, Mary Mac's Tea Room should be near the top of your list.




Majestic Diner


If you need a little extra nourishment to soak up all those game day beers, Majestic Diner is your late-night destination, serving up "food that pleases" since 1929. Featuring blue-plate specials, handspun milkshakes, southern grits, and a hearty side of nostalgia, this iconic diner is open 24/7 for all your feasting needs.




Manuel's Tavern


This famed Atlanta bar & restaurant is frequented by everyone from famous politicians to blue collar workers, acting as a long-time neighborhood gathering place for all kinds. With dozens of beers on tap, hearty pub food, and a lively atmosphere, this is a must-visit stop on your Super Bowl dining tour of Atlanta

.


Taco Mac
Known for their award-winning buffalo wings and boasting nearly 100 beers on tap, Taco Mac's original location still sits in Atlanta's Virginia-Highlands neighborhood. From burgers to flatbreads to tacos, there's something to please everyone on their menu.


Polaris
For panoramic city views, mid-century ATL vibes, and handcrafted classic cocktails, visit this rotating rooftop lounge atop the Hyatt Regency. Bourbon fans will enjoy the bar's custom blend in partnership with Maker's Mark.


STATS
Located just a hop-skip from Mercedes-Benz Stadium, this popular rooftop sports bar will undoubtedly be packed all throughout Super Bowl weekend. Pour your own beers at your personal table tap and order via iPad—if you can get a table!


Brick Store Pub
If you find yourself strolling Atlanta's Decatur Square, stop by the Brick Store Pub for a pint of your favorite craft brew. Their list features nearly 30 beers on tap and more than 75 bottled beers, all carefully chosen by the owners. Be prepared, though: the environment offers a departure from your standard Super Bowl experience—no TVs, no major domestic beers, and no neon in sight.


Ladybird Grove & Mess Hall
Situated along the BeltLine's Easide Trail and a stone's throw from popular Krog Street Market, Ladybird Grove & Mess Hall is a campfire and lodge-themed bar and restaurant. With ample indoor and outdoor space and charming decor, it's the perfect spot for a cocktail on a balmy February evening.


9 Mile Station


Located on the rooftop of the trendy Ponce City Market, 9 Mile Station dubs itself an "elevated beer garden," complete with sweeping skyline views and a full menu of gastropub favorites. The indoor-outdoor space hosts an ice skating rink through the winter, so snowbird visitors can feel at home while in town for Super Bowl weekend.
---
March Madness Support
Still have questions about March Madness or Final Four tickets? Shoot us an email at feedback@gametime.co and we'll touch base with an answer as soon as possible.