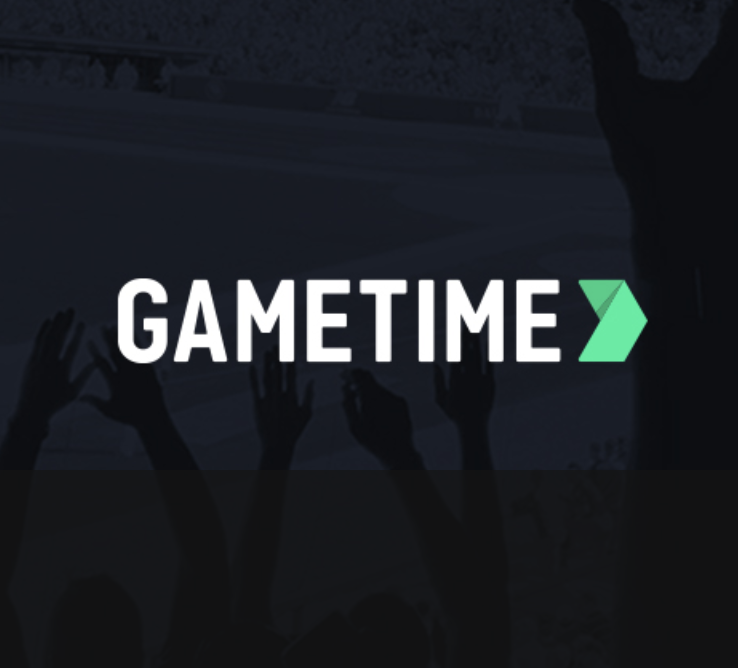 Gametime
Published: Jan. 01, 2020

Gametime Love Official Rules
Gametime Love is a chance for you to submit a video that may be featured in Gametime advertisements. If your video is selected for use you will receive $1,000 in Gametime account credit!
No purchase necessary to submit a video and be eligible to win. Purchasing does not increase the chances of a video being selected.
How to enter:
All video(s) must be submitted to the email address videos@gametime.co. Due to the digital nature of the promotion no other forms of entry will be accepted. Individuals may submit as many videos as desired. All further communications regarding the Gametime Love promotion will be made to the submitting party via the email address from which the entry was received. It is the submitting parties responsibility to ensure the email address is valid and monitored for future correspondences. Gametime will make commercially reasonable attempts to contact individuals who have a video selected; failure to reply to correspondences in a timely manner may render a selected video as ineligible at Gametime's discretion.
Eligibility:
Must be at least 18 years or older to submit a video. Employees, officers, or directors of Gametime and their children, parents, spouse, and members of their household are ineligible to participate. Submissions are open only to legal residents of the United States. Void where prohibited.
Submission deadlines:
All submissions become the exclusive property of Gametime and will not be acknowledged or returned. You are responsible for any incurred costs associated with a video submission. All submissions must be received by 11:59pm on June 30, 2020.
Selection criteria and process:
Video submissions will be reviewed by Gametime and selections made as soon as is commercially reasonable. Selected videos must adhere to the following guidelines;
Must be no longer than 15 seconds in length

All person(s) appearing in the video must be 18 years of age

Submissions will not mention, directly or indirectly, any competitors of Gametime

Submissions may not include any reference or impersonations to any living person(s)
Selections will be judged based on adherence to the criteria above, originality, and creativity. Selected videos may be utilized by Gametime, at their discretion, for various advertising purposes including, but not limited to, social media, advertising networks, Gametime email, or the Gametime website or mobile app. Gametime will not make the video public across any of the aforementioned channels without the written approval of the submitting party.
Selection notification:
Selected video submissions will be notified by email. Gametime will contact any selected videos only through the email address from which the video was submitted. It is the responsibility of the submitting party to ensure the email address from which the video is submitted is valid and monitored. If a video is selected the submitting party must reply within 7 business days acknowledging the selection, failure to do so will result in forfeiture of eligibility at Gametime's sole discretion unless modified in writing by Gametime.
Prizes:
Selected Gametime Love videos will be eligible for a $1,000 Gametime credit, deposited into the account of the recipients choosing. The $1,000 credit can be utilized without restriction by the recipient to make future purchases on Gametime for any and all events listed. Once deposited the $1,000 credit will not expire. In order to receive the credit users must:
Have a video selected under the 'Selection process and criteria' guidelines noted herein

Respond to Gametime's contact via the email address from which the video was originally submitted

Sign a written release waiver allowing Gametime to utilize the selected video at their discretion
Note that a release waiver may also be required for any additional individuals appearing in a selected video.
Indemnifications:
You agree to release and hold Gametime, its employees, officers, directors, harmless from any and all losses, damages, rights, claims and actions of any kind in connection with the promotion, including without limitation, personal injury, death and property damage, and claims based on publicity rights, defamation or invasion of privacy. The Gametime Love promotion is in no way sponsored, endorsed or administered by, or associated with any third party.
Other conditions:
Gametime, its agents, and representatives are not responsible for and will not be liable for (I) late submissions; (II) failures of transmission of video entries including, but not limited to, internet outages or file size limitations, (III) any condition caused by events beyond the control of Gametime that may cause Gametime Love to be disrupted or corrupted; or (IV) any injuries losses or damages of any kind arising in creation of the user video. All issues and questions related to the validity and interpretation of these Official Rules will be governed by the laws of California.