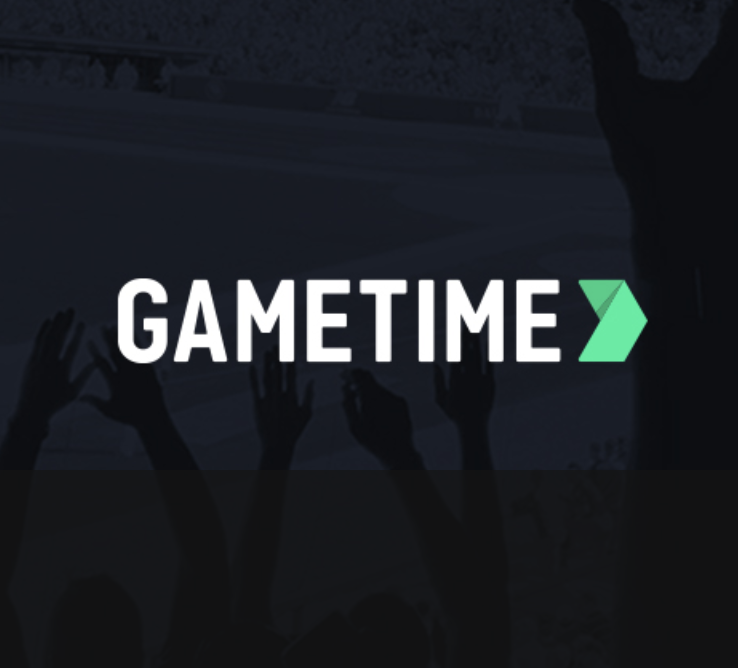 Gametime
Published: Sep. 29, 2020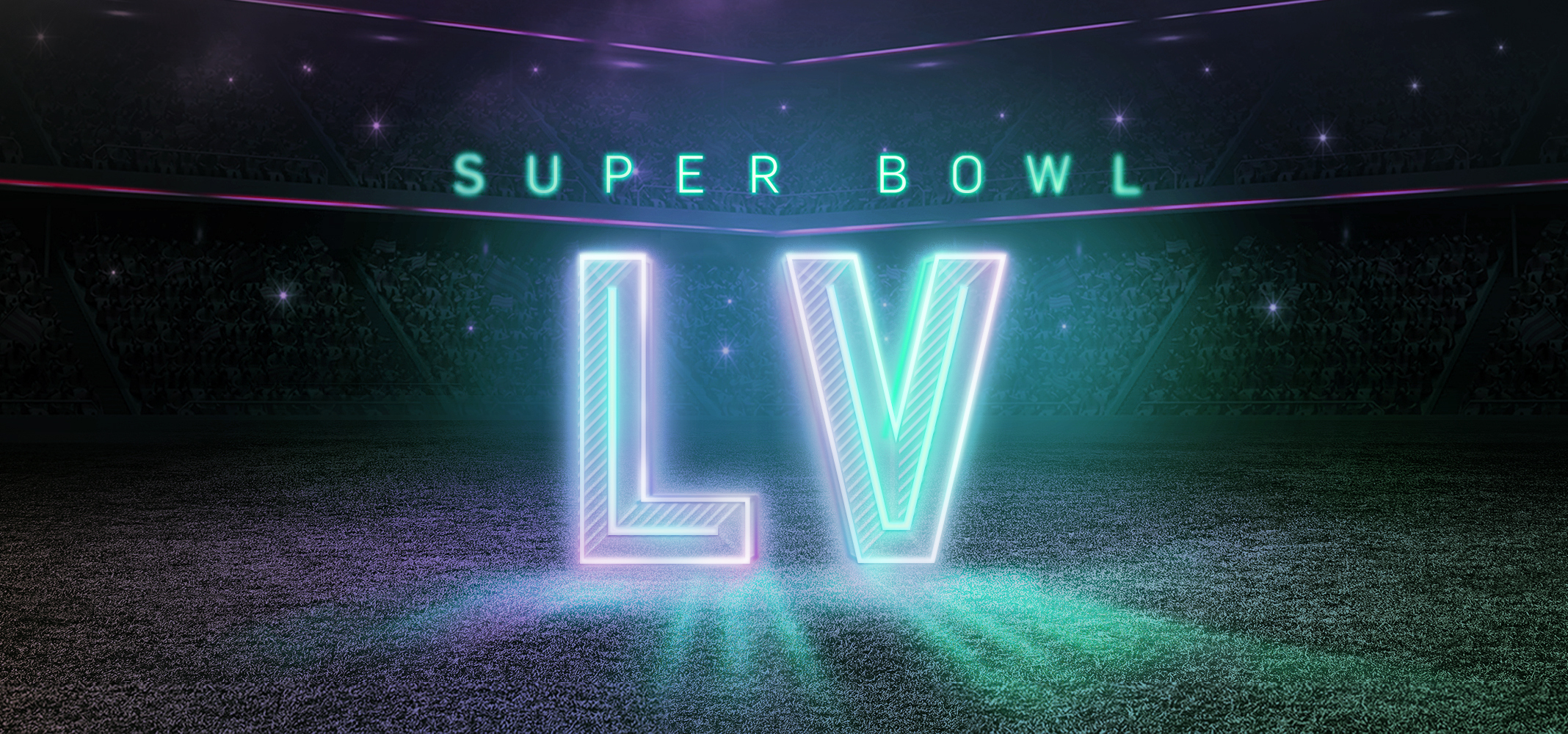 Your Essential Super Bowl 2021 Buying Guide
---

Already bought your tickets with Gametime? Huzzah! You're going to the Super Bowl!
Check out our FAQ for info about ticket pickup, stadium policies, and more.
---
So you've decided to go to the Super Bowl this year, huh? First of all, good for you! For a lot of people, attending a Super Bowl in person is a once-in-a-lifetime experience. In fact, there are probably a lot of sports fans who never get to experience the thrill and excitement of seeing the year's biggest sporting event in person. You should consider yourself fortunate and do your best to take in every second of it.
Of course, going to the Super Bowl creates a lot of questions. How do I get tickets? When is the right time to buy tickets? How do I know that my tickets are legit and I'm not getting scammed? Fortunately, we have all of the answers you need. Keep reading everything you need to know about Super Bowl LV and how to get tickets.
Everything You Want to Know
The process of buying Super Bowl tickets is different from buying tickets to any other sporting event. Folks don't just go to the NFL and say they want tickets. Most tickets, roughly 75% of them, are distributed to the 32 teams, specifically to the two teams playing in the game. Players and team employees of the two teams in the game get most of the allotment while the rest typically go to season-ticket holders.
The remaining 25% of Super Bowl tickets end up in the hands of people who work for sponsors or TV networks. Of course, a lot of those tickets end up on the secondary market where you can find them on sites like Gametime. This is usually your best bet for finding Super Bowl tickets, which is why we'd like to share with you:
How and when to buy Super Bowl tickets

How to find the cheapest Super Bowl tickets

Why Gametime is the best choice

What the Super Bowl experience is like
---
The Epic Search for Super Bowl Tickets
How to Buy Super Bowl Tickets
If you're here, we're assuming you're not a lucky NFL lottery winner, which means you'll likely be getting your tickets on the secondary market. Buying tickets from a secure reseller is 100% safe and secure, as long as you're purchasing from a reputable source. Here are a few tips for how to structure your search:
Do your research.
Super Bowl tickets are a huge purchase for most people, so you'll definitely want to check out multiple sites and compare prices. In the end, make sure you're purchasing from a trusted company that will provide support and open communication throughout the process, all the way through game day.


Set your budget.
Decide on a threshold that works for you, and be ready to buy as soon as tickets drop to that price. Don't give up too early if you're not seeing tickets in your range – prices generally fall in the last few days before the game. (See: "When to Buy Super Bowl Tickets" below.)


Prepare in advance.
Super Bowl tickets go fast, especially in the lower price range. To prepare for your purchase, create an account and add your payment info on your preferred marketplace in advance. It'll speed up the transaction when you're ready to buy, ensuring you get those perfect seats.
When to Buy Super Bowl Tickets
Like most sporting events, tickets on the secondary market tend to come down in price the closer you get to kickoff. Even for the Super Bowl, people trying to unload their tickets will start accepting less money if they haven't sold in the last few days before the game. Of course, this isn't always the case because the two teams playing and several other factors play a role in determining the price. However, you should keep monitoring prices in the last few days before the Super Bowl because this is when you often see ticket prices come down.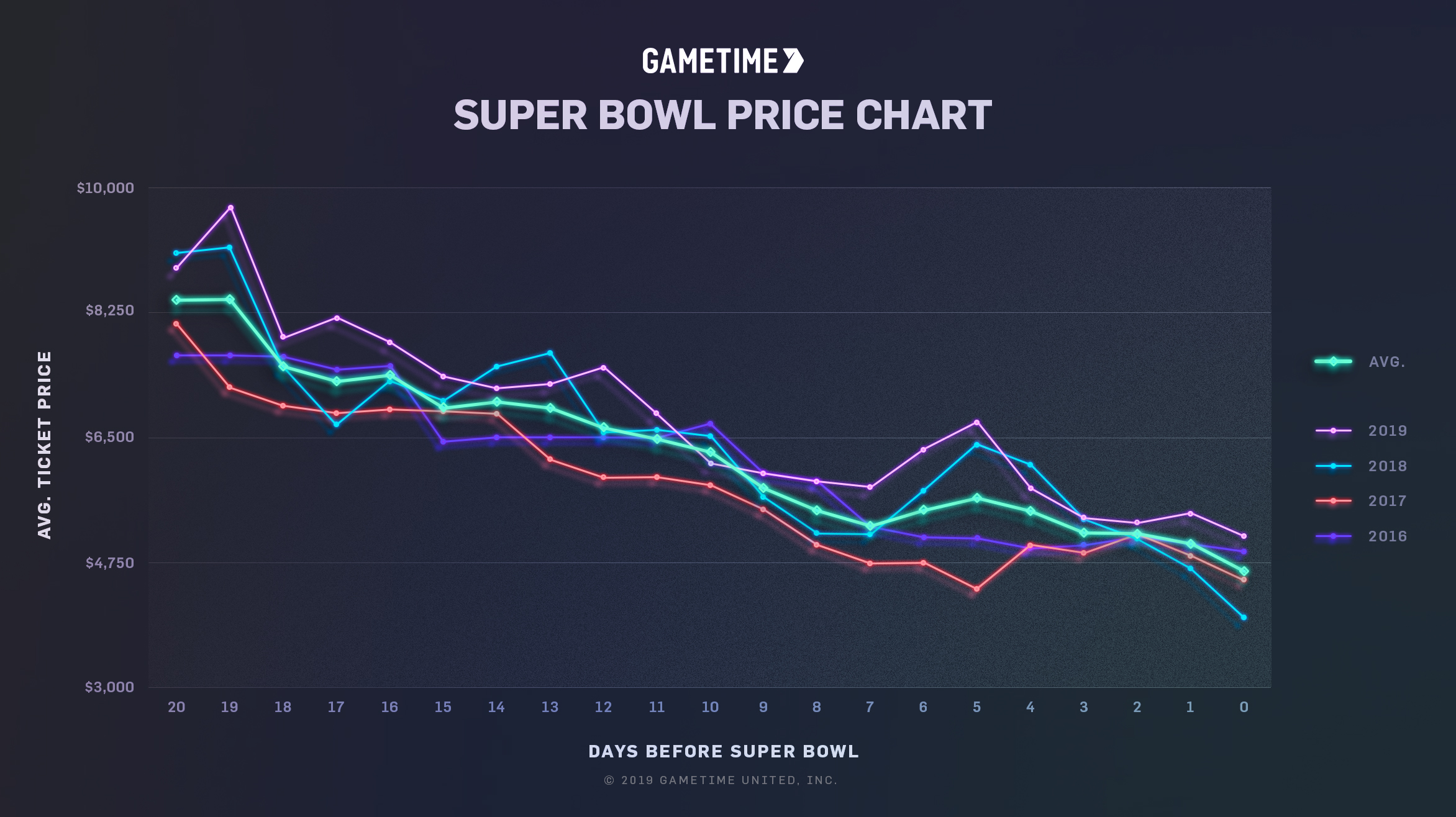 If your favorite team reaches the Super Bowl, don't make the mistake of buying tickets as soon as they clinch their spot. Historically, ticket prices increase right after the NFC and AFC championship games, as enthusiastic fans jump at the chance to see their favorite team compete in the Super Bowl. After the rush, prices tend to drop gradually over the following two weeks, usually hitting their lowest point in the few days prior to the game. Your best bet for cheap Super Bowl tickets – and we're using the word "cheap" loosely here – is to wait until a day or two before the game. Of course, if you're determined to go to the Super Bowl and you see a ticket within your price range, you may be wise to jump on it right away, since the market can be unpredictable- especially during a pandemic.
If you're tracking ticket prices in the Gametime mobile app, we recommend enabling All-In Pricing to view total costs including taxes and fees. Simply tap "My Tickets" in the app, click on your profile info at the top, and toggle All-In Pricing under Settings. By turning on this feature, you'll see the full cost of tickets as you scroll through the app. (Note: you'll need to create a Gametime account in order to adjust these settings.)
How to Identify Legitimate Super Bowl Tickets
Although rare, Super Bowl ticket scams are both heartbreaking and wallet-draining. While it's unlikely you'll end up a victim of counterfeit tickets, it's always a good idea to be prepared and stay knowledgeable.
The best way to avoid scams and know you're purchasing legit Super Bowl tickets is to buy through a trusted platform like Gametime, and always use a secure payment method with protections, like a credit or debit card. Every ticket we sell is backed by our Gametime Guarantee, so you can rest assured your tickets are authentic.
As you consider your options, we recommend you get familiar with how to identify authentic Super Bowl tickets. Check out this year's Super Bowl ticket security features, so you know your tickets are the real deal:
Raised Lettering
Legitimate Super Bowl tickets are printed on high-quality stock with raised textures throughout the design, including the Vince Lombardi Trophy, the NFL logo, and the Super Bowl logo.


Official Hologram
Your authentic Super Bowl tickets will feature a hologram showing a football.


RFID Chip
All Super Bowl tickets are printed with an RFID chip on the back, ensuring the authenticity and security of your ticket.
Why Buy from Gametime?
If thinking about buying Super Bowl tickets is making your palms sweat a little, we get it. Spending two months' rent on one epic day can make anyone a little panicky. At Gametime, your peace of mind is our #1 priority, and we're here to help you turn that nervous energy into pure exhilaration. If you're looking for a little extra reassurance, here are a few reasons to feel confident buying your tickets from Gametime:
Guaranteed Authentic Super Bowl Tickets
We partner only with verified Super Bowl ticket resellers, so you can breathe easy knowing your tickets are authentic. If you've never purchased from us – or even heard of us! – check out this article about Gametime from Inc.com to learn more.

Lower Fees → Better Prices
Gametime has some of the lowest ticketing fees in the business, meaning we offer more competitive pricing for 49ers vs. Chiefs Super Bowl tickets, and your total cost won't be inflated due to unnecessary service fees.

Curated Listings
We do the hard work for you. Our intuitive platform surfaces the best ticket options available at any given time based on price, location, and other factors – so you don't have to waste your time scrolling through less-than-stellar deals.

Dedicated Super Bowl Customer Support
This game is a big deal, so we've dedicated part of our customer support team to be on-call specifically for Super Bowl buyers, now through game day. Reach out at (888) 660-7992 between 6am - 9pm PST. Don't be surprised if we answer on the first ring.
The Super Bowl Experience
If you've never been to Raymond James Stadium, it should be on the bucket list of any football fan. The stadium has already hosted two Super Bowls and one College Football Playoff National Championship Game. As the home of the Buccaneers, it's the only NFL stadium with a giant replica pirate ship in one end zone. There is also ample space around the stadium for tailgating and all of the usual pre-game activities you'll only find at the Super Bowl. Finally, Raymond James Stadium received an extensive renovation in 2016 to update many of the venue's amenities, including the video board. When Super Bowl LV rolls around, Raymond James Stadium will be nothing short of spectacular and be everything that a Super Bowl venue should be.
Check out our Super Bowl Weekend Guide for more tips and things to do!
---
Dedicated Super Bowl Support
We're happy to help! Or talk Super Bowl predictions. Or commiserate about the demise of your fantasy team. Reach out to our dedicated customer support team at (888) 660-7992 between 6am - 9pm PST.