Gametime
Published: Aug. 31, 2020
Super Bowl 55 Frequently Asked Questions
---

Don't have tickets yet? Browse our verified Super Bowl tickets, all 100% Gametime guaranteed.
---
BUYING SUPER BOWL TICKETS
Is Gametime a trustworthy source for Super Bowl tickets?
In a word: yes! At Gametime, your peace of mind is our top priority. We partner only with verified Super Bowl ticket vendors, so you can rest assured that your tickets are 100% authentic. To hear what other people are saying about Gametime, check out this article on Inc.com. Want to talk to a real person? Give us a ring at (888) 660-7992 to speak with our dedicated customer support team.
When is the best time to buy Super Bowl tickets?
Ticket costs vary based on a variety of factors, but there are always a few trends when it comes to Super Bowl ticket prices. If you're wondering when to buy Super Bowl tickets, keep in mind that ticket prices usually drop as the event gets closer. Visit our Buying Guide for more tips on when to buy Super Bowl Tickets.
How much are Super Bowl tickets?
Face value tickets are usually at least $1,000 for nosebleeds, but you might find yourself spending multiples of that number. Of course, many factors influence ticket prices, including weather, player injuries, and the matchup itself. Check out Super Bowl ticket prices or visit our blog for practical tips to get the cheapest Super Bowl tickets possible.
What are Super Bowl zone tickets?
The Super Bowl is unlike any other sporting event – and that includes its tickets. Up until a few weeks before the game, Super Bowl tickets are sold as "zone tickets," meaning the exact seat locations aren't yet allocated. When you buy a Super Bowl zone ticket, you're guaranteed a seat within your selected zone, but you won't know the exact section, row, or seat number(s) until closer to game day. Visit our full blog post about Super Bowl zone seating to view the Super Bowl seating chart and learn more.
---
GETTING YOUR TICKETS
How will I get my tickets?
These tickets are kind of a big deal, so they require in-person pickup in Tampa. For security reasons, the exact pickup location isn't released until the week leading up to the Super Bowl. If you've purchased tickets through Gametime, keep an eye out for an email from us in late January with your convenient pickup location and more details.
When can I pick up my tickets?
You'll pick up your tickets in Tampa on Super Bowl weekend. Before the end of January, we'll send you an email with the dates and times that your tickets will be available for pickup. Don't worry – our Gametime Guarantee ensures you'll have your tickets in hand before the game!
Can my tickets be shipped?
Unfortunately, your tickets cannot be shipped. All Super Bowl tickets purchased from Gametime must be picked up in-person in Tampa.
How do I know my Super Bowl tickets are real?
Gametime partners with only verified sellers, and we guarantee the authenticity of each ticket we sell. Every year Super Bowl tickets are designed with specific security features, like holograms, thermal ink, and unique textures. When this year's tickets are released, we'll be back here with more information about what to expect and how to confirm that your tickets are the real deal.
---
RAYMOND JAMES STADIUM
How do I get to Raymond James Stadium?
Raymond James Stadium is located in Tampa, Florida. It's roughly five miles west of downtown Tampa and a few miles east of Tampa International Airport. For transportation and parking information, visit the Raymond James Stadium website. For getting to the Super Bowl, here are your best options:
Ride Share
Ride-sharing services like Uber and Lyft are both available in the Tampa area. The drop-off area at Raymond James Stadium is along Dale Mabry Highway on the west side of the stadium and south of the pedestrian bridge. The pickup area is at George Steinbrenner Stadium, which is on the other side of Dale Mabry Highway, northwest of the stadium, and is accessible via the pedestrian bridge.
Driving
There are over a dozen parking lots at Raymond James Stadium, most of which are directly north or directly south of the stadium between the Dale Mabry Highway and North Himes Ave. However, spaces will be at a premium during the Super Bowl. If you plan to drive, consider reserving a parking pass ahead of time to save yourself a headache.
Public Transit
It's possible to reach Raymond James Stadium using public transportation. In the city of Tampa, Bus 36, Bus 45, and Bus 7 all have lines that pass near Raymond James Stadium.
What can I bring into Raymond James Stadium?
Security is always tight at the Super Bowl. All guests will go through screenings and metal detectors before entering the stadium. We recommend that you review the Raymond James Stadium policies and procedures on the official website to learn about the venue's bag policy, prohibited items, and allowed items.
The following items are not permitted to be carried into Raymond James Stadium:
Aerosol or spray bottles of sunscreen

Any item that could be used as a missile

Backpacks, duffel bags, or large bags

Bags/cases not approved in accordance with the clear bag policy

Cameras longer than 12 inches (includes body, lens, and filter)

Camera bags/binocular cases

Cans/bottles

Coolers

Fanny packs

Fireworks

Food/drinks

Glass

Horns/lasers/artificial noisemakers

Illegal drugs

Pets (service animals are permitted)

Recreational balls

Seat cushions

Smoking & tobacco (including e-cigarettes and vaporizers)

Sticks/poles/camera/"selfie" sticks, gimbals, or extenders

Strollers

Umbrella

Unmanned aircraft systems & radio-controlled model aircraft/drones (strictly prohibited on stadium property including parking lots, stadium exterior, and inside the stadium)

Video cameras/go-pros

Weapons
What is the bag policy at Raymond James Stadium?
Raymond James Stadium complies with the official NFL bag policy. Approved bags include clear plastic bags that are 12'' by 6'' by 12'' or smaller or a 1-gallon clear plastic freezer bag or smaller. In addition to clear bags, a small clutch bag or purse with a shoulder/wrist strap or no strap is allowed if it is no larger than 4.5'' by 6.5''.
All bags and items not permitted in Raymond James Stadium must be returned to your vehicle or placed in a storage locker. The stadium has storage lockers available on-site during all events so guests can secure their belongings that don't comply with the stadium bag policy. The lockers are located southeast of Gate C.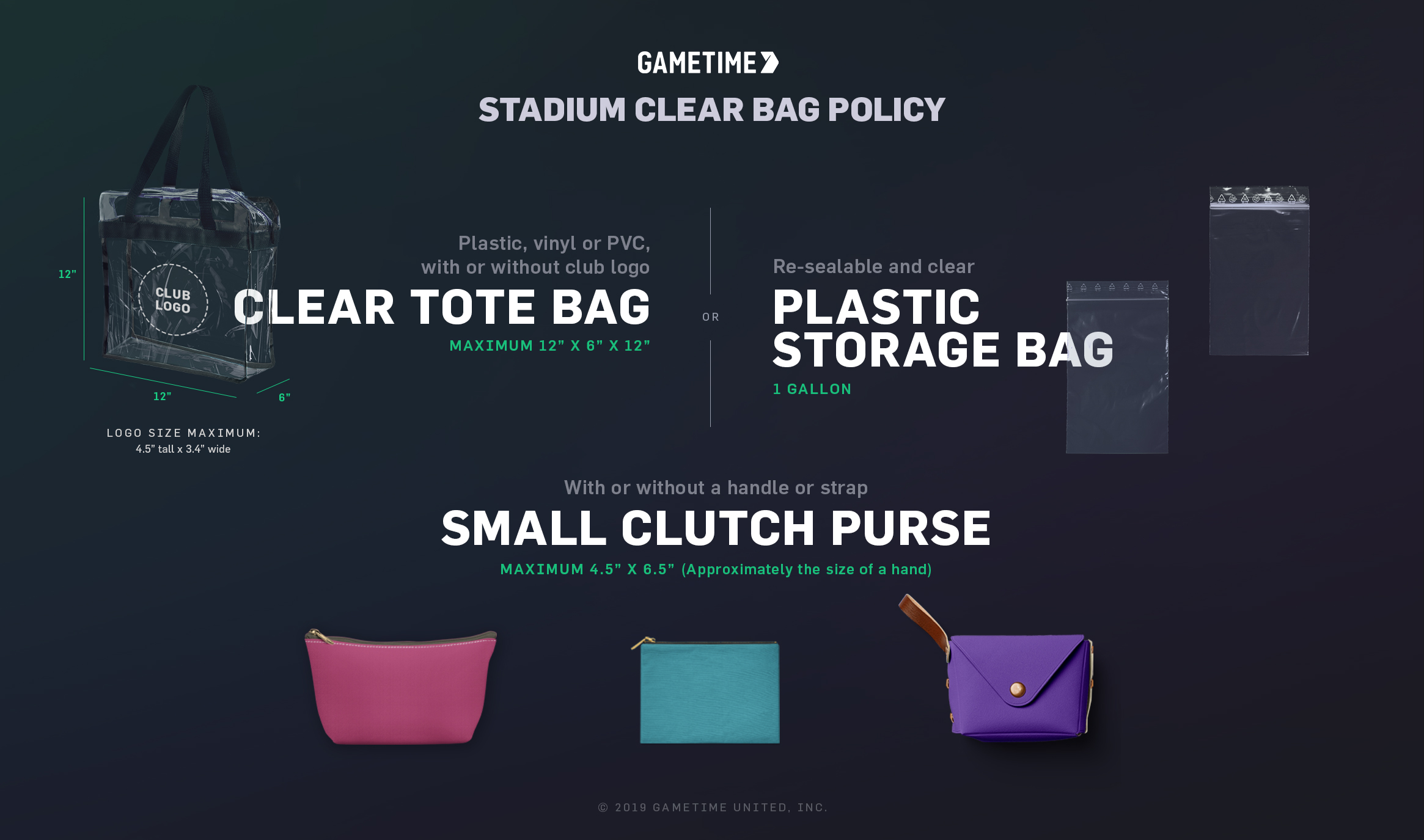 ---
I have more questions! Who can I reach out to?
We're happy to help! Or talk Super Bowl predictions. Or commiserate about the demise of your fantasy team. Reach out to our dedicated customer support team at (888) 660-7992 between 6am - 9pm PST.