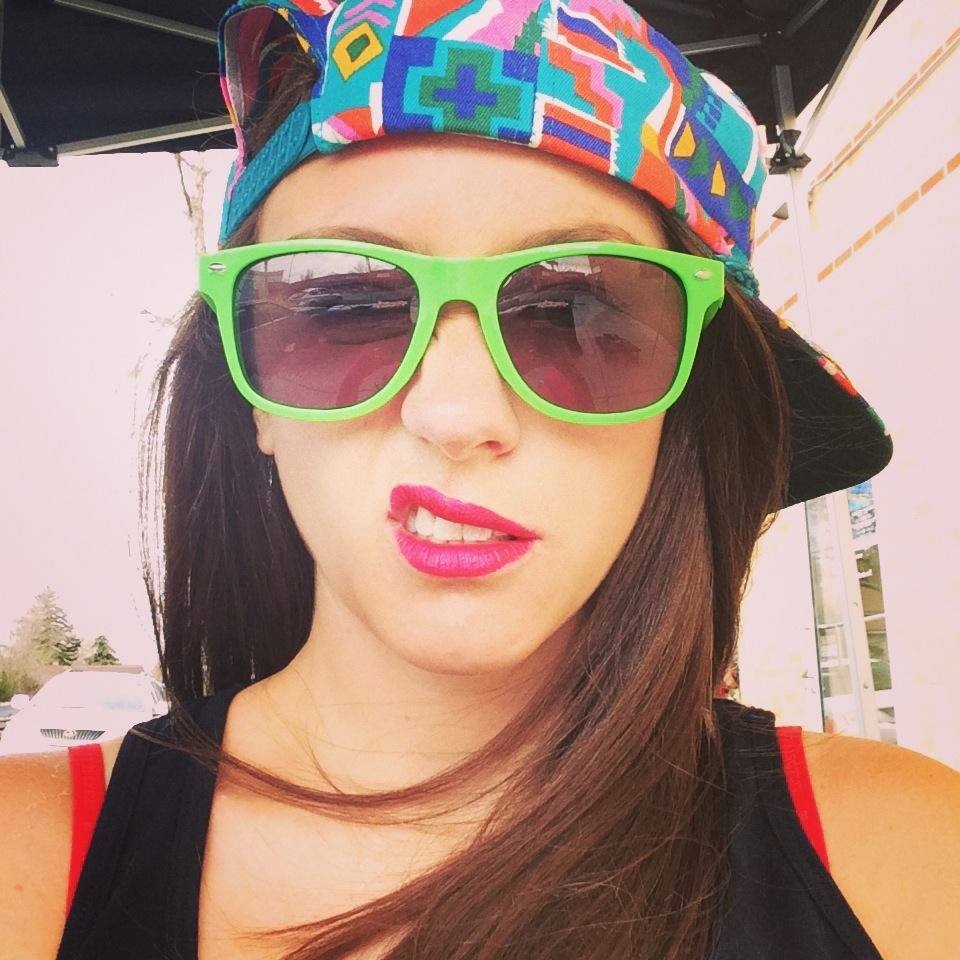 Jackie Berkery
Published: Nov. 22, 2019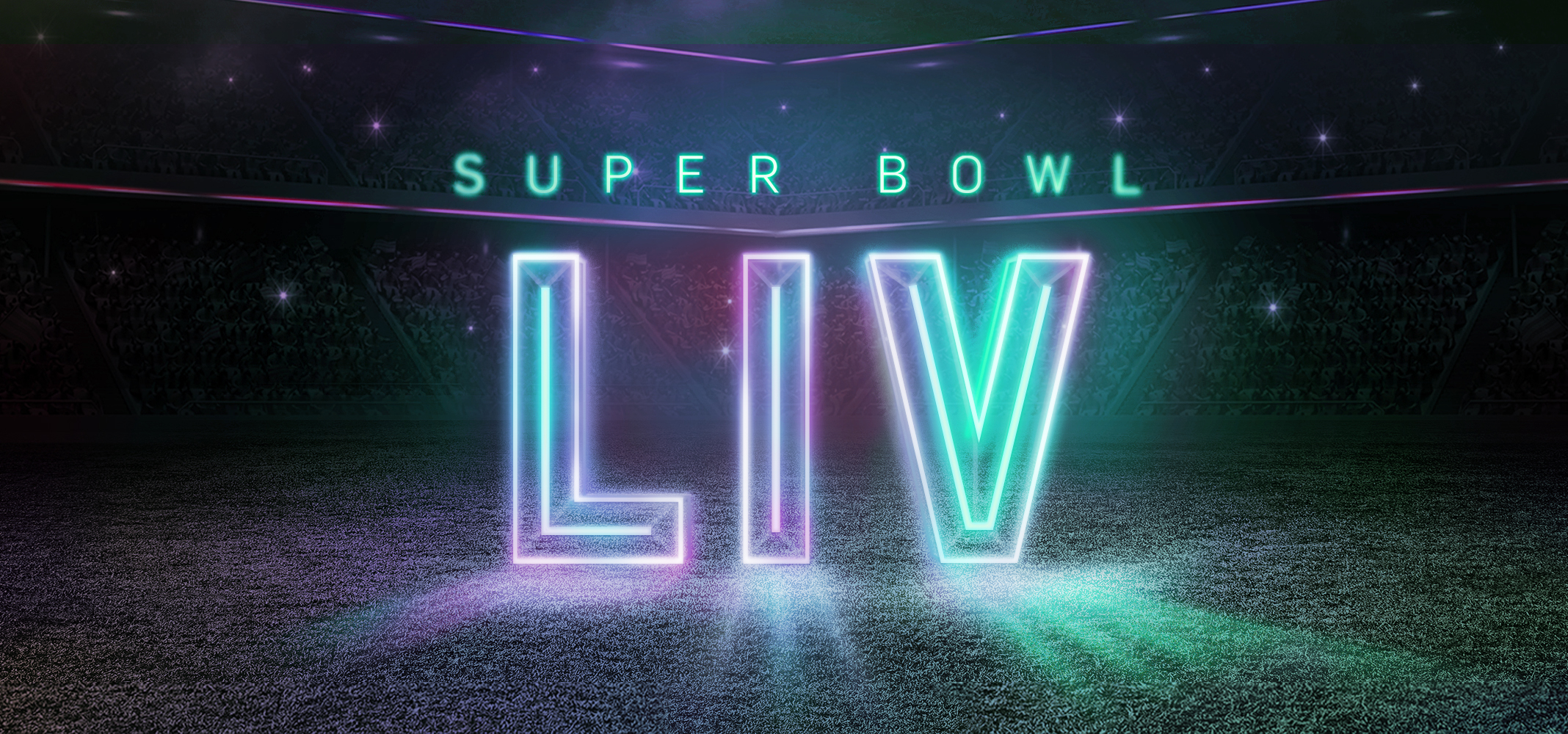 Your Essential Super Bowl 2020 Buying Guide
---
Whoops! This is last year's buying guide
Check out the 2021 Buying Guide for all the most up to date details
---
So, you're thinking about going to the Super Bowl. Right on. These might be the most precious – and expensive – tickets you ever buy, so you'll want to take extra care to make the right choices. When's the best time to buy 49ers vs. Chiefs Super Bowl tickets? How do I know my tickets are the real deal? Big questions. We've got your answers. Read on to learn all about Super Bowl LIV and how to score tickets.
A Whole Different Ball Game
The business of the Super Bowl is unlike any other event of its kind thanks to the unique way tickets are issued and sold. In short: the general public cannot purchase tickets directly from the NFL.
Your best bet for getting face value Super Bowl tickets is to be a season ticket holder for any NFL team. About 75% of tickets are distributed directly to the teams, with the majority going to the two playing in the big game. Each team then sells their allotment—usually via lottery – to lucky season ticket holders, players' families, employees, and others. The remaining 25% of tickets are controlled by the NFL and go to sponsors, media, and networks.
If you're like most of us and missed the boat on season tickets, there's still hope. While it'll be tough to snag face value tickets, you can still find great seats through a secondary marketplace like Gametime. And that's where we come in…
In this Super Bowl Buying Guide we'll cover:
How and when to buy Super Bowl tickets
Finding the cheapest Super Bowl tickets
Why buy from Gametime
The Super Bowl experience



---
The Epic Search for Super Bowl Tickets
How to Buy Super Bowl Tickets
If you're here, we're assuming you're not a lucky NFL lottery winner, which means you'll likely be getting your tickets on the secondary market. Buying tickets from a secure reseller is 100% safe and secure, as long as you're purchasing from a reputable source. Here are a few tips for how to structure your search:
Do your research.
Super Bowl tickets are a huge purchase for most people, so you'll definitely want to check out multiple sites and compare prices. In the end, make sure you're purchasing from a trusted company that will provide support and open communication throughout the process, all the way through game day.


Set your budget.
Decide on a threshold that works for you, and be ready to buy as soon as tickets drop to that price. Don't give up too early if you're not seeing tickets in your range – prices generally fall in the last few days before the game. (See: "When to Buy Super Bowl Tickets" below.)


Prepare in advance.
Super Bowl tickets go fast, especially in the lower price range. To prepare for your purchase, create an account and add your payment info on your preferred marketplace in advance. It'll speed up the transaction when you're ready to buy, ensuring you get those perfect seats.
Super Bowl Zone Tickets
Remember when we mentioned that Super Bowl tickets are a unique business? Well, that includes the way they're sold and allocated to fans. Up until a few weeks before the Super Bowl, tickets to the game are sold as "Zone Tickets," meaning you won't know your exact seat and section until closer to the event. We've written a separate blog post about how Super Bowl Zone seating works, so we suggest you check it out if you're buying tickets in advance.
When to Buy Super Bowl Tickets
Though trends vary from year to year, there are a few dependable peaks and valleys you can expect when it comes to Super Bowl ticket prices. Like most live events, the Super Bowl market tends to see prices drop as game day gets closer. Keep in mind that's not always the case, though. There are myriad factors that can impact ticket prices, including weather, location, player injuries, and the matchup itself.
Face value Chiefs vs. 49ers Super Bowl tickets generally start at nearly $1,000 for nosebleeds—so you better be prepared to dole out some cash for these coveted seats. That said, if you know how the system works and plan accordingly, you just might come by an awesome deal on tickets.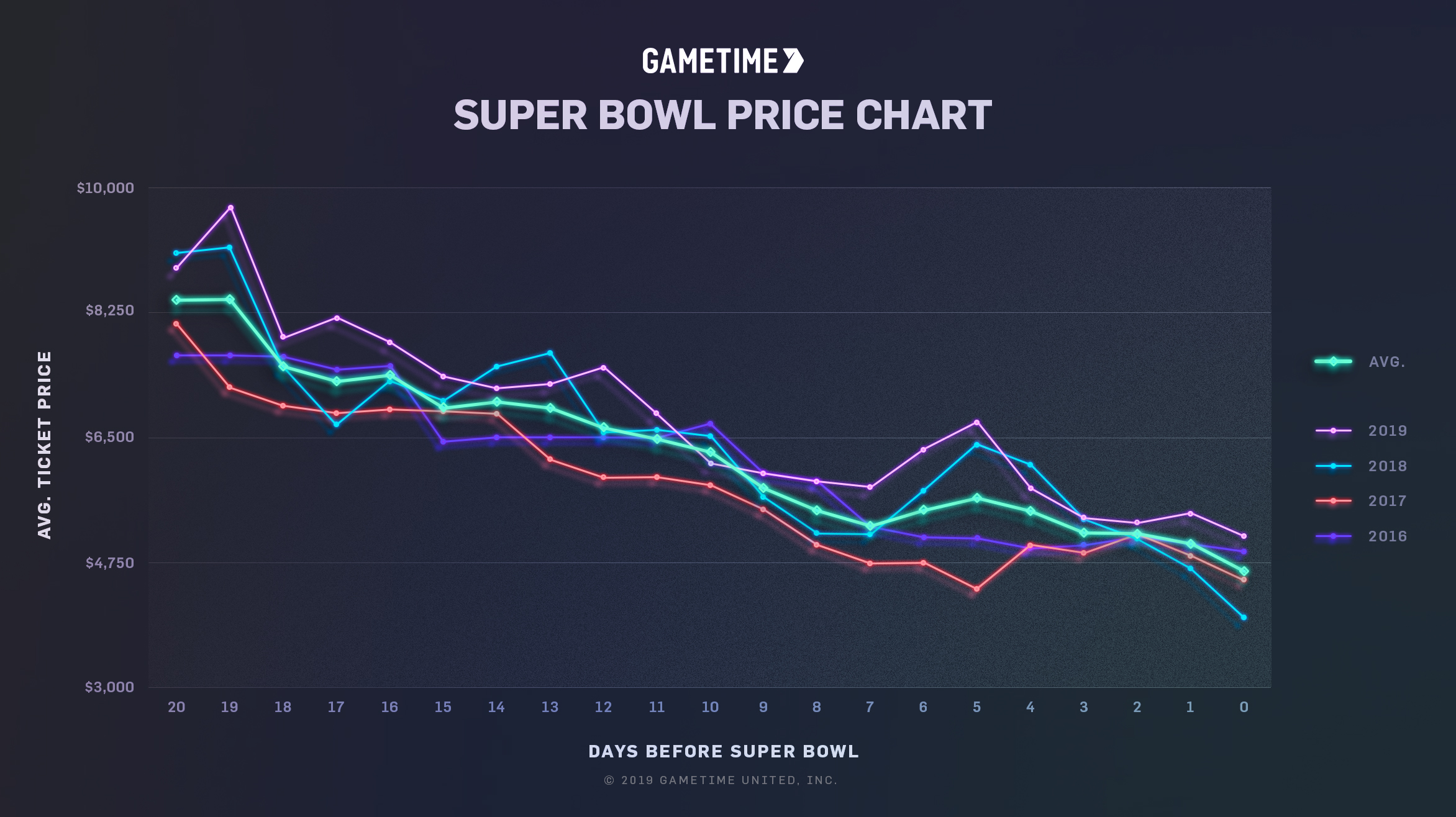 Historically, ticket prices increase right after the NFC and AFC championship games, as enthusiastic fans jump at the chance to see their favorite team compete in the Super Bowl. After the rush, prices tend to drop gradually over the following two weeks, usually hitting their lowest point in the few days prior to the game. Your best bet for cheap 49ers vs. Chiefs Super Bowl tickets – and we're using the word "cheap" loosely here – is to wait until a day or two before the game. Of course, if you're determined to go to the Super Bowl and you see a ticket within your price range, you may be wise to jump on it right away, since the market can be unpredictable.
If you're tracking ticket prices in the Gametime mobile app, we recommend enabling All-In Pricing to view total costs including taxes and fees. Simply tap "My Tickets" in the app, click on your profile info at the top, and toggle All-In Pricing under Settings. By turning on this feature, you'll see the full cost of tickets as you scroll through the app. (Note: you'll need to create a Gametime account in order to adjust these settings.)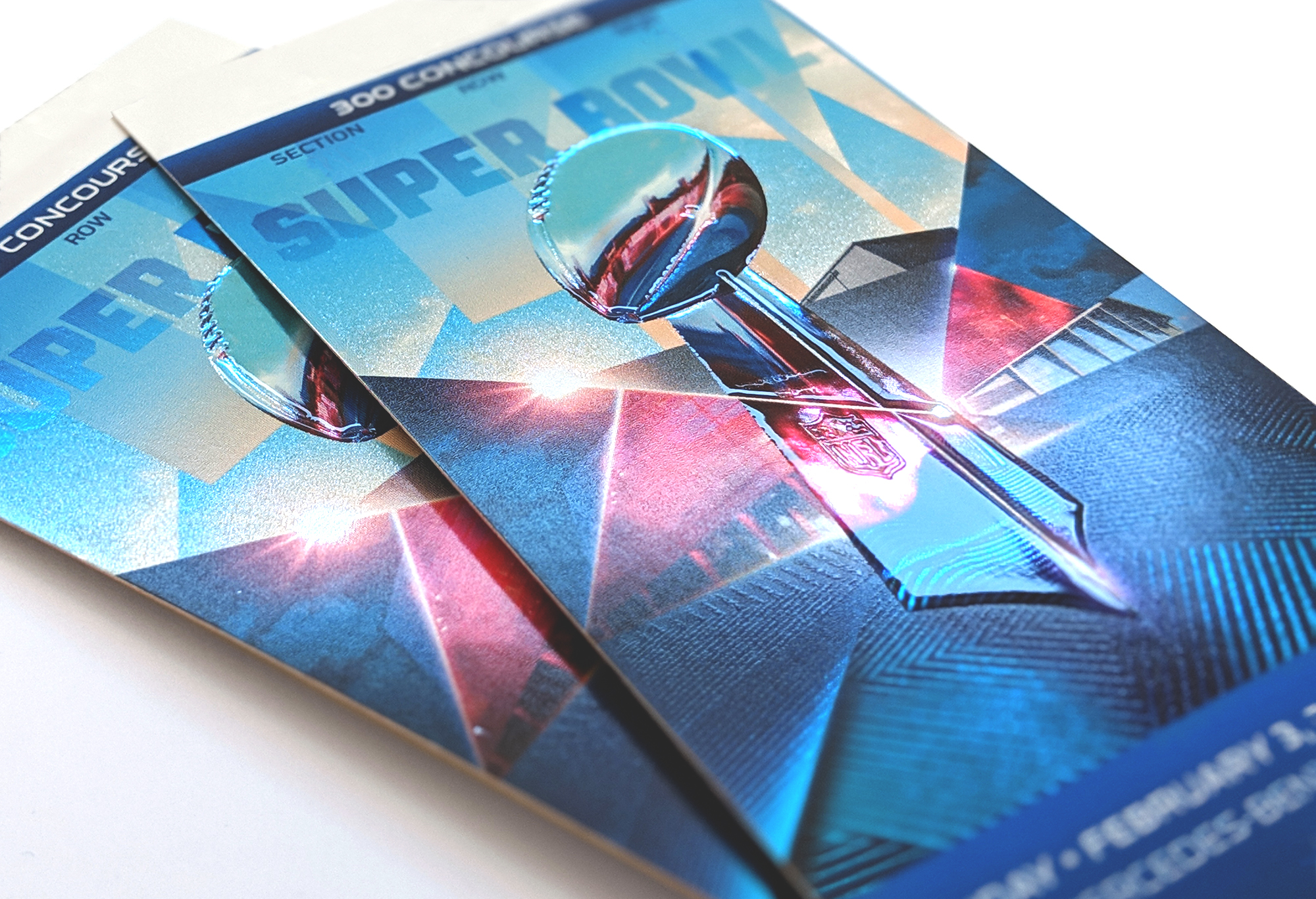 How to Identify Legitimate Super Bowl Tickets
Although rare, Super Bowl ticket scams are both heartbreaking and wallet-draining. While it's unlikely you'll end up a victim of counterfeit tickets, it's always a good idea to be prepared and stay knowledgeable.
The best way to avoid scams and know you're purchasing legit Super Bowl tickets is to buy through a trusted platform like Gametime, and always use a secure payment method with protections, like a credit or debit card. Every ticket we sell is backed by our Gametime Guarantee, so you can rest assured your tickets are authentic.
As you consider your options, we recommend you get familiar with how to identify authentic Super Bowl tickets. Check out this year's Super Bowl ticket security features, so you know your tickets are the real deal:
Raised Lettering
Legitimate Super Bowl tickets are printed on high-quality stock with raised textures throughout the design, including the Vince Lombardi Trophy, the NFL logo and the Super Bowl LIV logo.


Official Hologram
Your authentic Super Bowl tickets will feature a hologram showing a football with LIV as well as the words "Super Bowl LIV Miami" and "02.02.20"


RFID Chip
All Super Bowl tickets are printed with an RFID chip on the back, ensuring the authenticity and security of your ticket.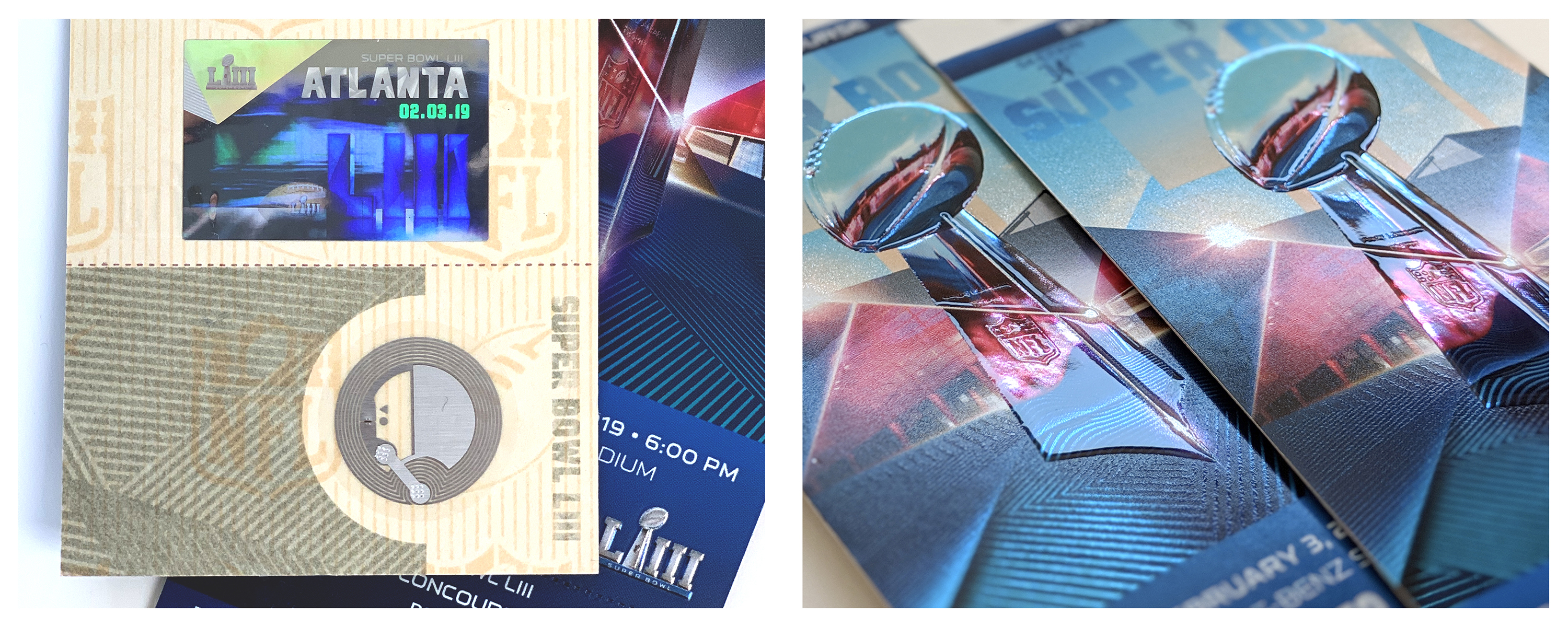 ---
Why Buy from Gametime?
If thinking about buying Super Bowl tickets is making your palms sweat a little, we get it. Spending two months' rent on one epic day can make anyone a little panicky. At Gametime, your peace of mind is our #1 priority, and we're here to help you turn that nervous energy into pure exhilaration. If you're looking for a little extra reassurance, here are a few reasons to feel confident buying your tickets from Gametime:
Guaranteed Authentic Super Bowl Tickets
We partner only with verified Super Bowl ticket resellers, so you can breathe easy knowing your tickets are authentic. If you've never purchased from us – or even heard of us! – check out this article about Gametime from Inc.com to learn more.

Lower Fees → Better Prices
Gametime has some of the lowest ticketing fees in the business, meaning we offer more competitive pricing for 49ers vs. Chiefs Super Bowl tickets, and your total cost won't be inflated due to unnecessary service fees.

Curated Listings
We do the hard work for you. Our intuitive platform surfaces the best ticket options available at any given time based on price, location, and other factors – so you don't have to waste your time scrolling through less-than-stellar deals.

Dedicated Super Bowl Customer Support
This game is a big deal, so we've dedicated part of our customer support team to be on-call specifically for Super Bowl buyers, now through game day. Reach out at (888) 660-7992 between 6am - 9pm PST. Don't be surprised if we answer on the first ring.
---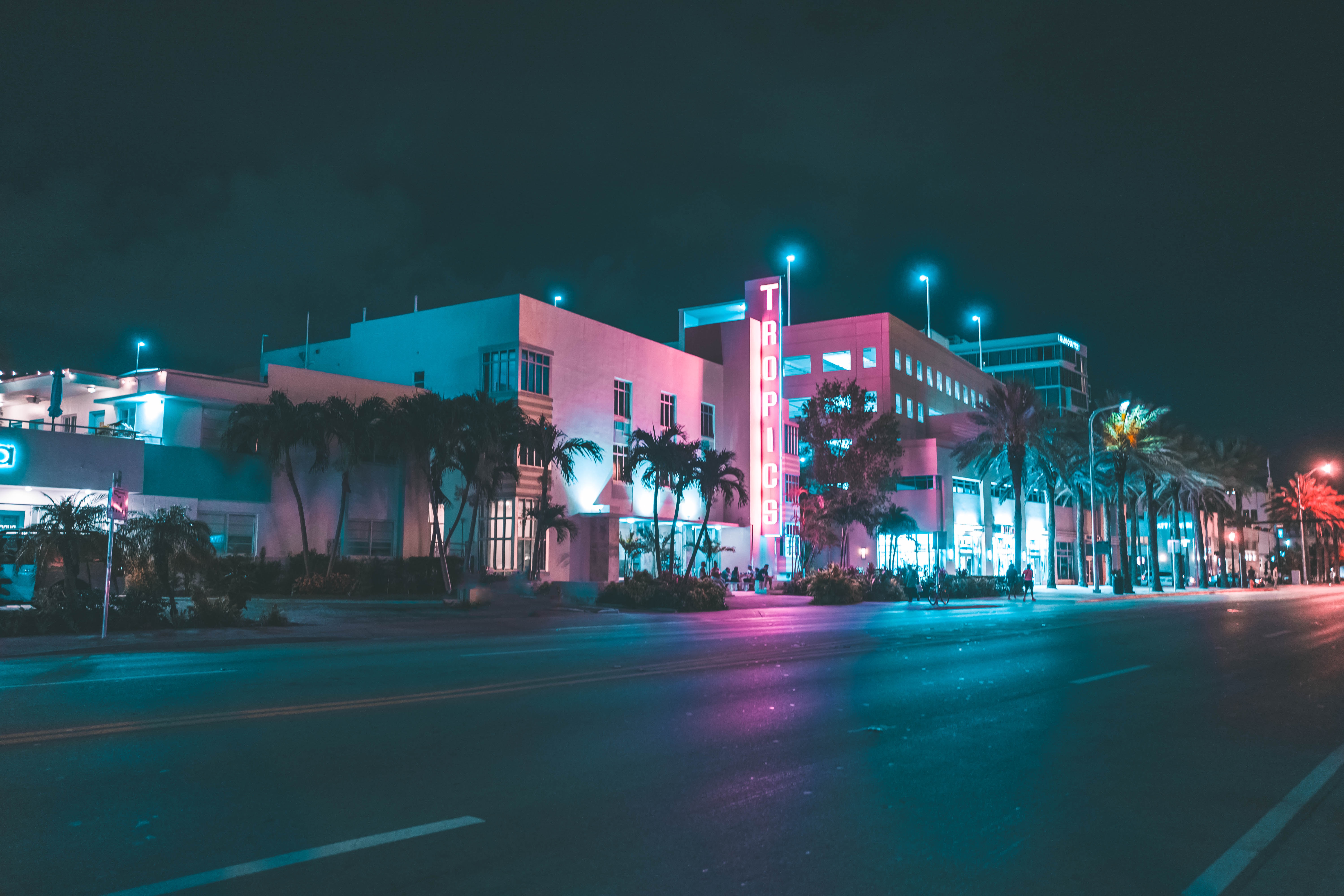 ---
The Super Bowl Experience
Miami Gardens, Florida
The 2020 Super Bowl will take place just north of Miami, Florida – home of the Dolphins, art deco, and Dwayne "The Rock" Johnson. This sprawling cosmopolitan city boasts balmy winters, world-class cuisine, and a dozen varieties of palm trees. The makings for a perfect host city for the Chiefs vs. 49ers Super Bowl.
In Miami, modern trends blend seamlessly with the region's deep cultural roots, creating a vibrant, energetic melting pot that welcomes visitors from all over the world. Whether you're a foodie, sports fanatic, art buff, or sun worshiper, you'll find your niche in Miami's diverse urban landscape.
Fortunately, the city is no stranger to marquee sporting events. Miami hosts the annual Orange Bowl and has hosted the Super Bowl a whopping ten times – most recently for Super Bowl XLI in 2007 and Super BowlXLIV in 2010. They know what they're doing in The Magic City, and we're ready for them to bring it.
Hard Rock Stadium
Super Bowl LIV will be held at Hard Rock Stadium just north of downtown Miami. The stadium isn't as new as some others in the league — it opened in 1987 — but it sure has history. It's gone by a myriad of names over the years, taking on its most recent moniker in 2016. Seating more than 65,000 people, the stadium acts as home turf for the Miami Dolphins and the University of Miami Hurricanes.
Despite the fact that the stadium is more than 30 years old, it has been updated over the years and boasts several state-of-the-art features. The newly-renovated space offers several luxury lounges and clubs, most notably the 72 Club "Living Room" boxes at the 35-yard line, with huge comfy leather seats and premium service. (Google it!) There's also a stadium-wide exhibition called "Art Unexpected," which includes nearly 40 pieces of unique art designed by artists from across the globe.
Five of Miami's 10 Super Bowl games have been hosted at Hard Rock Stadium. And fun fact: a kickoff has been returned for a touchdown in every Super Bowl played at the stadium except the 2010 game. Fingers crossed for that kind of excitement in 2020! For more info about Hard Rock Stadium – including policies, dining options, and facilities – check out the stadium's official website.
Super Bowl Tailgating
Pregame at the Super Bowl is always buzzing with energy and excitement, as thousands of people descend upon the stadium grounds – many of whom aren't even going to the game but just want to get rowdy alongside their fellow fans. Tailgating at Hard Rock Stadium is allowed in all parking lots before the game. Keep in mind that your car is permitted to take up only one parking space, and your tailgating equipment – including tents, grills, and your intricately carved ice luge – may not extend beyond the area behind your vehicle. And sadly, no kegs allowed. For other tailgating policies, visit the Hard Rock Stadium website.
Want to elevate your pregame experience? Grab tickets to the Players Tailgate, where you can rub elbows with NFL players, dine on food prepared by celebrity chefs, and generally bask in Super Bowl extravagance. A Players Tailgate ticket can be yours for just $875.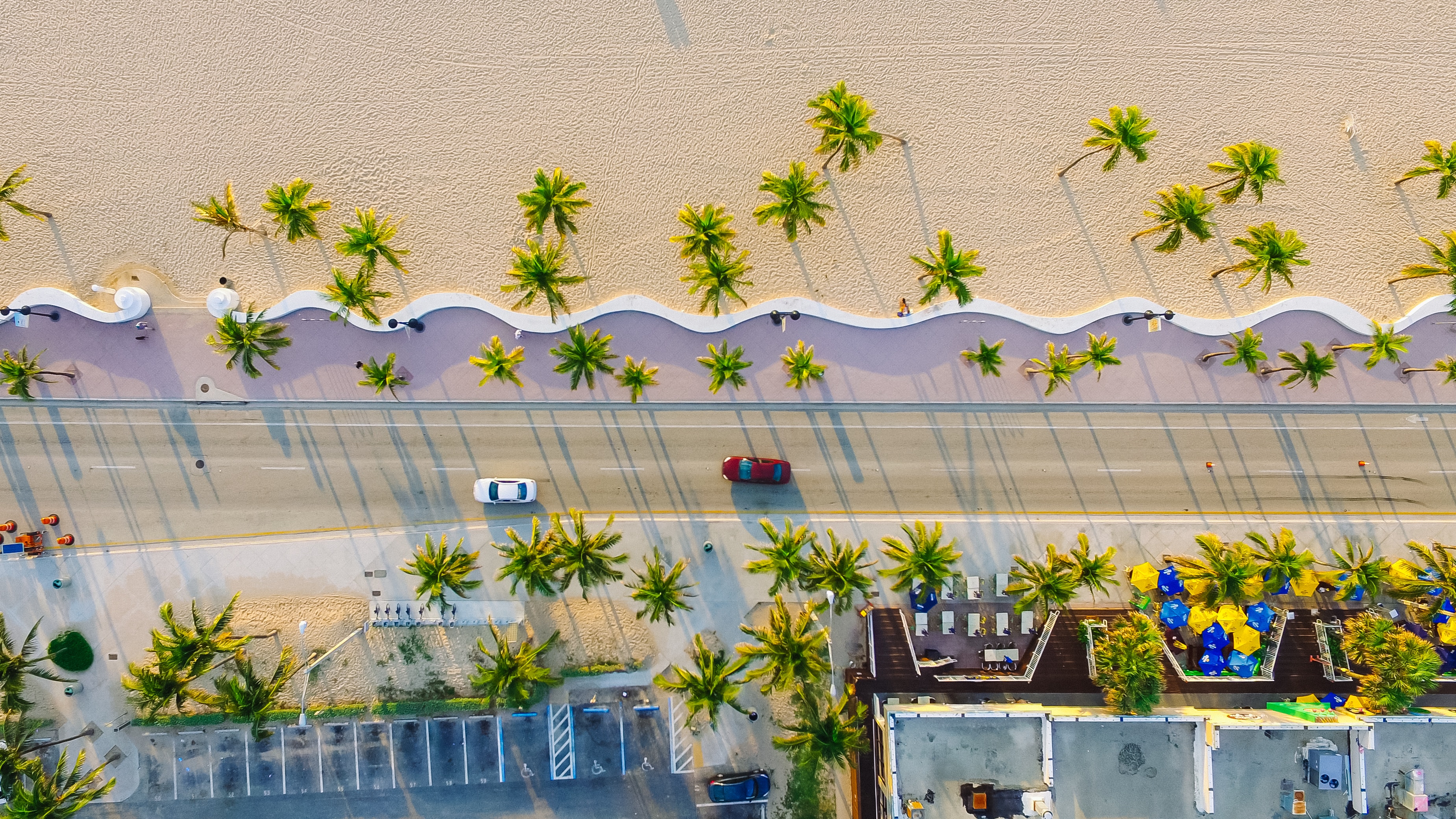 Getting Around Miami
Hard Rock Stadium is located in Miami Gardens, Florida – just north of downtown Miami. For transportation info and parking passes, visit the Hard Rock Stadium website. Here are your best options for getting to the Super Bowl:
Ride Share
Attendees can catch a ride with Uber or Lyft, both of which are widely available in the Miami area. Rideshare pickup and dropoff are restricted to a designated area at Norwood Elementary School, which is

located less than a mile from the stadium. (Heads up: no tailgating is allowed at the dropoff location.)




Driving
There are more than 24,000 parking spots across 20 lots at the Hard Rock Stadium, but you can bet parking will still be difficult. If you plan to drive, consider reserving a parking pass in advance to save yourself a headache.


Public Transit
Miami's citywide bus and rail system, known as Miami-Dade Transit (MDT), offers several ways to get to the game – but beware that it's not as convenient as the public transportation systems in other major cities. The easiest way to get to Hard Rock Stadium is by MetroBus 297,

which runs only during game days and connects with the Metrorail system.
Hard Rock Stadium Food & Drink
With nearly $500 million in renovations in recent years, Hard Rock Stadium has made some major upgrades – and its culinary experience has benefitted significantly. There are tons of unique dining options throughout the stadium, including artisanal and craft beer outposts, classic stadium fare, and on-trend gourmet options. Here are a few of our favorite spots to eat and drink at the Super Bowl:
Sloppy Joe's (Section 145, 317)


Don't be fooled by the name. Yes, this Florida Keys favorite serves up everyone's favorite (and messiest) lunchroom sandwich. But they're also known for their shrimp po' boys and conch fritters, a staple of Key West. Stop by for a frozen drink and some local fare, if only to remind yourself that you're in Florida!




Shula Burger (Section 114, 142, 222, 250, 345)


This stadium staple is a favorite among Dolphins fans – and with five locations at Hard Rock Stadium, you can't miss it. Named after legendary NFL coach Don Shula, the burgers have made a name for themselves outside of their famous founder, and for good reason... they're amazing.




Fuku (Section 116, 319)


If you need a little extra nourishment to soak up all those game day beers, swing by one of the Fuku outposts for a fried chicken sandwich. Chef David Chang (of Momofuku fame) has won accolades across the country for his creations, and this spot lives up to the hype. Order a classic or take it up a notch with bacon and ranch dressing.




Grown (Section 111, 242)
Looking for something a little healthier? Grown is the first 100% certified organic restaurant within a sports stadium, so you can feel good about what you're eating. Try the wild salmon burger, cold-pressed juices, or a fresh salad. It's your best no-guilt option at the stadium, and it's damn good.


Mojo Donuts (Section 217)


Gotta save room for dessert, right? Stop by Mojo Donuts to satisfy your sweet tooth – or celebrate a win?! This favorite bakery among Miami locals has a stadium outpost that creates special donuts for high-profile games, so you can surely expect a little something special for the Super Bowl.
---
Dedicated Super Bowl Support
We're happy to help! Or talk Super Bowl predictions. Or commiserate about the demise of your fantasy team. Reach out to our dedicated customer support team at (888) 660-7992 between 6am - 9pm PST.